Digital Play Materials & Other News
---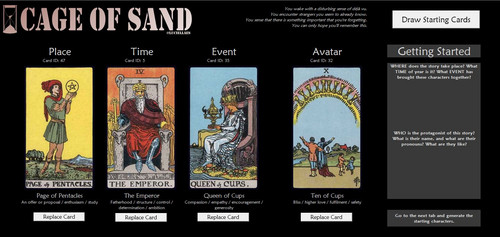 Hello folx! Hope you're all having a lovely or at least somewhat tolerable day. Luci here today with some new files for Cage of Sand (gasp). I've made a few minor wording changes to the PDF, but the bigger change is the inclusion of a set of tools designed to facilitate digital play.
Cage of Sand can be played solo or with a group, but it was originally designed on the assumption of everyone sitting around a table together. At the time, I hadn't really put much thought into how it would be played digitally/remotely, but I realise that compared to many dice-based TTRPGs, this game is actually quite hard to play over the internet. This was also a good opportunity for me to look at the other question of how people without a tarot deck could play the game.
Two options are now included: an Excel workbook with all the rules included and with buttons to draw cards, or a set of assets (cards, playmat, game images) to be uploaded into a virtual tabletop tool such as Roll20.
Roll20 is free to use, but the upload process takes quite some time - I tested this myself over my slow Australian internet. Still, that time investment could pay off, especially if you play other tarot roleplaying games (since you can reuse some of the same assets). Ideally, I would like to launch my own Roll20 module for this game which would have everything already set up for the player - but that's a longer term goal and may not be feasible. I've kicked off some enquiries and have my fingers crossed.
If you or someone you are playing with has a copy of Excel, the workbook contains the key rules and a number of macros designed to really enhance the play experience, so I would very much recommend this if it is available to you. I'm pretty proud of it, but would love to hear tome feedback. Please do let me know what you think.
I may later add an alternative(s) which does not require Excel. On reflection, it was a miss to use a tool that a) not everyone has, and b) is really, really, not designed for that purpose. While I say I'm proud of the front end, I don't necessarily stand behind the project's internals, so don't look too closely at that. I thought it would save time and be less stressful than Unity, but on reflection, that was the inexperience talking. Or perhaps I simply got too excited writing macros and it would have taken a long time either way.
I'm very much open to requests and suggestions in terms of ways to make this better, though depending on the scale of the suggestion it might take me a while. This is all a bit new for me in terms of thinking of digital means for physical games. I think there's a lot of scope to change my thinking here and get creative. If you're an indie TTRPG dev yourself, I'm happy to discuss my thinking and would be interested in your thoughts as well. Leave a comment below or reach out on Twitter @luciellaes - let's have a conversation.
Files
CageOfSand-MacroFormat.xlsm
4 MB
98 days ago
VirtualTabletopMaterials.zip
3 MB
98 days ago